Southern Cross Gliding Club operates from Camden Airport
We fly over the historic town of Camden and the picturesque Macarthur region. On a good soaring day, we can reach Lake Burragorang.
How to get here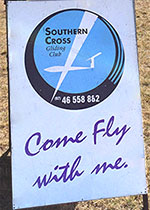 From the M5 motorway, take the Camden/Campbelltown exit, and turn onto Narellan Rd heading towards Camden.
At the end of Narellan Rd, turn left into Camden Valley Way. Drive 2.3km, through Narellan, past the golf course and look for the Camden Airport sign.
Turn right into Kirkham lane, and drive 2.0km to the intersection with Macquarie Grove Rd.
Turn left, drive another 1.8km to the entrance of Camden Airport on the right.
Once inside the airport, follow the signs along the left hand perimeter road. You should see our gliders, tugs and piecart on one of the runways.
Look for the "Southern Cross" signage.
Please take extreme care when on the airfield, and ensure that you do not walk across any of the grass runways as they may be in use at any time. Children must be supervised at all times. Pets are not allowed on the airfield.
Maps